Social Distancing Due to COVID-19 Spurs Bloom of Gardening, Self-Sufficiency in U.S. Backyards and Community Spaces; "Climate Victory Gardens" Provide Earth-Friendly Blueprint for Homegrown Produce.
WASHINGTON, DC – APRIL 2, 2020 – The coronavirus pandemic is changing life as we know it, and many Americans are using their sudden surplus of spare time at home to plant Climate Victory Gardens, which are being promoted by the nonprofit Green America. With already over 2,400 gardens taking part in the Climate Victory Garden movement, this number is rising as people turn towards gardening to supplement their pantries and support their mental health in these trying times.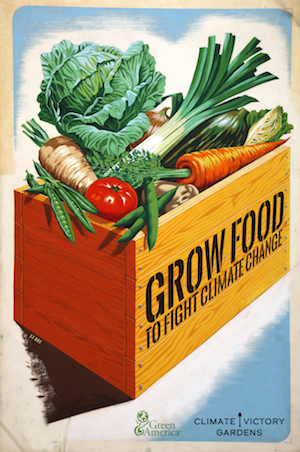 Inspired by the "Victory Gardens" planted during WWI and WWII that drove the creation of nearly 20 million gardens that produced 40% of the fresh fruits and vegetables consumed in the U.S. at the time, Climate Victory Gardens empower Americans to grow their own produce while incorporating regenerative agriculture techniques that help fight climate change. Green America estimates that current gardens are offsetting the equivalent of taking over 70,000 cars off the road for a year.
Research shows that the climate crisis is contributing to epidemics and pandemics, so gardens are also part of the solution that might reduce future pandemics and other challenges associated with the climate crisis.
Jes Walton, food campaigns manager at Green America, said: "In this time of crisis and uncertainty, growing your own food can be empowering. Gardening provides Americans with a way to be more self-sufficient, and when the principles of regenerative agriculture are applied, it can be part of the climate solution. Let's work together to support our communities and the planet."
To plant your own Climate Victory Garden, start by following these five steps:
Ditch the Chemicals
Keep the Soil Covered
Encourage Biodiversity
Grow Food
Compost
You can find detailed instructions at https://www.greenamerica.org/climate-victory-gardening-101.
Thousands of Climate Victory Gardens are being tracked through Green America's searchable map. For more information or to register your own Climate Victory Garden, visit: https://greenam.org/garden.
Green America's how-to video, featuring actress/activist Rosario Dawson and the artist/activist Ron Finley, provides information for gardeners who want to take advantage of the spring growing season to plant their own Climate Victory Gardens.
ABOUT GREEN AMERICA
Green America is the nation's leading green economy organization. Founded in 1982, Green America provides the economic strategies, organizing power and practical tools for businesses and individuals to solve today's social and environmental problems. http://www.GreenAmerica.org
MEDIA CONTACT: Max Karlin for Green America, (703) 276-3255, or mkarlin@hastingsgroup.com.