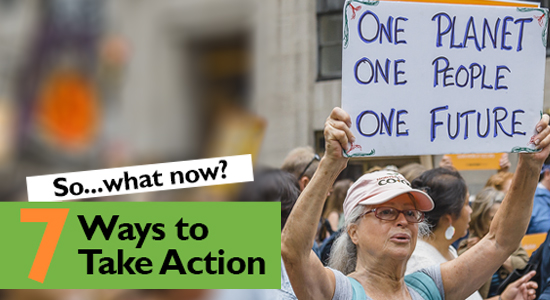 All over the United States, people are deeply concerned about what a Trump administration could mean for themselves, their families, and their communities, as well as the environment and vulnerable people worldwide. The news since the election gives cause for alarm. 
President-elect Trump is planning to fill his cabinet with climate deniers, allies of big business, and anti-immigrant and anti-civil rights choices. He plans to undo US participation in the historic Paris climate accords, which just came into force this month.  He wants to end the Clean Power Plan that would shift the US away from dirty fossil fuels. He is in favor of reviving the coal industry, drilling offshore and on public lands, increased fracking, and reducing or eliminating the EPA. He also wants to undo Dodd-Frank regulation of the megabanks, which would allow them to engage in risky behavior again, and weaken the Consumer Financial Protection Bureau, which protects us all from predatory practices. He supports "law and order" and "stop and frisk," which are the slogans and policies that lead to police abuses of people of color.  He infamously wants to deport millions of immigrants from the US, build a wall on the Mexican border, and is already talking about reducing rights for the nation's LGBTQ community.
Women, people of color, and the LGBTQ community have all made significant progress on expanding their rights over the past decade, and these are all at risk. It can all seem overwhelming, particularly after the recent gains for people and the planet, but we can't afford to give up.  The rights of Americans – workers, women, people of color, and the LGBTQ community – were only won after decades of struggle, often in the face of open hostility and violent threats. 
We have also made progress on the environment, particularly over the past 30 years, due to the endless resourcefulness of activists on the local, state, and national level.
We need to bring that energy to the next four years, to ensure that all the gains we've made as a nation are not lost, and to move forward on bold new initiatives wherever avenues are open to achieving them.  While most of the attention on the election focused on the national races, there were some very bright spots at the state and local level, including four states that passed increases to the minimum wage (positively impacting two million people). Massachusetts passed increased animal welfare protections.  An anti-solar initiative backed by utilities in Florida failed.  These successes can be built on in other states and pave the way for national successes in the future.
Green America will be working with all of our individual and business members to fight egregious policies at the national level, while working directly with consumers, businesses, and investors to continue to grow the green economy.  Our organization was founded during the Reagan Administration, a time of notable hostility to the environment and social justice, and we have worked tirelessly to create a green economy for all ever since. Here are just some of the ways to join us in protecting and advancing social justice and environmental sustainability that's at the heart of that work:
Build safe communities for all people where you live. No matter what your ethnic or cultural background, reach out to your friends, neighbors, and fellow citizens of color and to the LGBTQ community. Let there be no doubt that we stand together against all forms of racism and injustice. Let there be no doubt that your home and your presence is a place of safe harbor.
Fight back against oppression at the national level. Support organizations that fight for the rights of women, people of color, and the LGBTQ movement nationally and be active with them.  Right now, you can join Green America in supporting the Standing Rock Sioux in their opposition to the Dakota Access Pipeline—opposition that has been met with brutal repression from law enforcement. Green America, along with many business and individual members and allies, has endorsed the Movement for Black Lives Platform.  There are many worthy organizations to support that oppose hate groups, fight for women rights, and/or fight for the rights of the LGBTQ community.  Join with them in opposing hate and oppression.
Work on the local and state level for environmental and social justice causes. Most of the innovative policy in this country comes from measures first adopted at the state and local levels.  Work with your community to reduce greenhouse gas emissions, and to support climate adaptation measures.  Push for higher minimum wages and better social services.  Provide direct assistance to people who are in need.  No matter your interests or skill set, you can get involved and make a difference.
Fight back against bad policies on the national level. Trump and his transition team have made clear that they plan to overturn much of the progress we've made on the environment and social justice.  That's why we have to be prepared to fight back. Over the past 30 years, Green America has been fighting Big Ag, the fossil fuel industry, Wall Street, corporations that abuse the rights of workers in the US and abroad, and their allies in Washington DC, to stop policies that harm people and the planet.  With hundreds of allied organizations nationwide, we are making a difference.  But, the fight against practices that harm people and the planet depends entirely on people like you.  It is only when hundreds of thousands or millions of Americans speak up that we are able to stop the worst abuses coming from Washington DC.  Get action alerts from Green America and allies and make sure to email, call, and march to protect our shared future.
Work directly with the business community to pursue our green economy goals. Here at Green America, we've always known that we can't wait for Washington to solve our most urgent problems.  We have a 30-year history of working directly with businesses, large and small, to create an economy that works for people and the planet.  We will ramp up our work to help small green businesses nationwide thrive and create the latest green innovations. Green America runs the nation's largest network of small green businesses, and we will help these leaders raise their voices in calling for a green economy.
Leverage the voices of consumers to push big businesses to act responsibly. Green America is a leader in encouraging large corporations to adopt practices that protect the environment and communities worldwide.  Thanks to our members nationwide, we have had tremendous tremendous success with a wide range of corporations: ending GMOs and toxins, ending child and slave labor, protecting vulnerable people from toxic exposures, stopping coal, reducing carbon emissions – the list goes on and on.  We first use consumer pressure to get corporations to commit to responsible practices, then we often guide them in creating more responsible supply chains. And we will redouble our efforts in the coming year, and reach out to our members to continue to be active with us, so we can build on all the progress we've made together.  Take action with us today.
Support community development. Green America is a national leader in promoting socially and environmentally responsible banking and investing. By using a community development bank or credit union, we can all improve conditions in economically marginalized communities, both rural and urban. Green America will continue to educate the public on how community development banking provides jobs, housing, infrastructure and hope to individuals and neighborhoods that are struggling economically – as well as information on how switch out of mega-banks and where to find new banking options.
The years ahead are going to be very challenging for us all, but if we all work together for the world we need and deserve, we can make progress.  We look forward to joining with our individual and business members and allies to protect the gains we've made and pioneer the innovations that will create a greener world for future generations. 
Thanks to all the people who take action with us to create a greener world, and if you are not already a member of Green America, please consider joining us today.
- by Todd Larsen, Executive Co-Director of Consumer & Corporate Engagement, Green America